Aqua Trac Water Project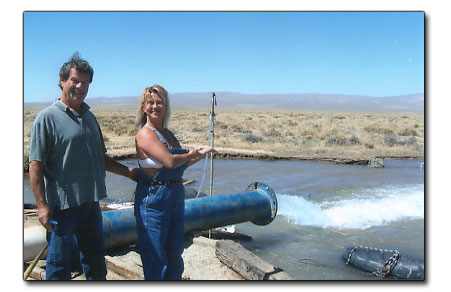 August 9th, 2006.
5th day of 7 day pump test at 5,000 BPM.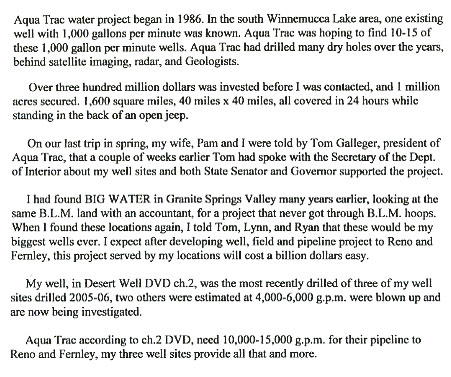 ---
LINDAMAN CONSTRUCTION, INC
Lic. #958949 - B, C35
39919 San Francisquito Cyn Rd
Green Valley, CA 91390
(661) 270-1288 ph, (661) 270-9592 fax
margininc@roadrunner.com

June 18, 2019

Jack Coel
P.O. Box 11753
Ft Mohave, AZ 86427

Re: Results of Water Dowsing
Jack,
You did some water dowsing for Mark Lindaman on February 18, 2019, at the address above, which resulted in two locations being identified for potential well sights. I'm enclosing a copy of the receipt you gave Mark for your reference. Mark recently completed the drilling of a well at "Site #1" and water was found at approximately 300'. The well was drilled to a depth of 400'. The well drilling company, Abundant Water Wells, estimates a 10 - 15 gallon a minute flow. Mark is getting estimates for installing a pump, at which time we'll have a better idea of the actual flow rate.
Just wanted to let you know the results of your efforts and to thank you for your services.
Sincerely,
Berlinda Kredo - Office Manager
---
Ron and Lynda Findlay
2019
Dear Jack,
Peace, Joy and Friendship.
We are Praising the Lord that you were available to help us so quickly. May God Bless you in your work as He has for 11,000 wells.
Love,
Ron and Lynda Findlay
A word from Jack Coel: These folks were trying to sell a home on 2 acres in Eugene, Oregon and had 2 dry wells. I found a location that provided twenty five gallons per minute. They were then able to sell the property and move back to Placerville.
---
Kathleen Stout
Drum Canyon Road
Lompoc, California
January 25, 2007
Hi Jack,
Thought you would like to see the well results:
Your #2 (test hole 4B)
22 gallons per minute - water quality excellent
Drinkable water (TDS - T10)
Your #3 (test hole 3B)
22 gallons per minute - water quality (TDS - 2050)
Needs a filtering system to be suitable for crops.
Your (test hole 5B) "12 acres"
30 gallons per minute - water qulaity (TDS - 1390)
OK for crops.
Alt. Test Hole 3 - (the one the geologist and the other dowser recommended) - DRY HOLE!
So you were 3 for 3 and now we have 74 g.p.m. out of 3 new wells and one of them is suitable for domestic use (water is actually better than our current domestic well).
Thanks!
Kathy Stout
P.S. - I'm giving your name to everyone I know who is looking for water. You may get a call from our realtor or her clients. Realtors with Sotheby's and Prudential know about these results.
---
Tom and Jan Alaska
Reno, NV
September 25, 2006
Jack Coel
Water Dowsing
Dear Jack:
If you remember, you came to my place off of Red Rock Road on June 16th and dowsed for our well. You came as the highest recommended water dowser around and your incredible reputation for being just the damn best is still intact. Gary Nielsen gave me your name and you can bet I will be passing your name out to anyone else I know who is planning to drill a well in this area.
Ed Mondragon, who is one of the drillers for Bruce MacKay here in Reno, came to the spot you picked and really was skeptical about your prediction of hitting water so shallow in this area. Neighbors all around have wells that are over 900 feet deep and NO ONE has a well less than 600 feet anywhere near us. Your spot came in with the first water at 384 feet and last water at 417 feet. The production is 27 gallons a minute.
You should have seen Ed's face when he hit the first water a full couple of days before he ever even planned or hoped. I actually heard him say, "Holy shit!...we got water." Ed, who has been drilling in this area for 30 years, said later that he fully expected to have to go through 900 feet of hard drilling to get anything. He just stood there and shook his head as he calculated the production at 27 gallons a minute while developing the well.
When I first contacted you by phone and arranged the appointment for the dowsing I was a bit taken back by your rate, but had faith in your reputation and the Lord. Today I am here to report your rate was WORTH EVERY CENT.
Feel free to have any skeptical potential customers call me and I will personally give them my endorsement.
Sincerely,
Tom Alaska

---