General Information 10-08-19
I am a Christian, called by Christ many years ago to find water (Matt 7-7, seek and ye shall find). My mission in life is to glorify Christ by providing water well locations through water dowsing. I have provided over 12,000 water well locations over the last 40 plus years. I regularly and consistently outperform science and technology. I am the only full time water dowser in the west. Large municipal or agricultural locations as well as domestic sources are identified.
I worked through the drought of 1976-77, the drought of the century I worked through the ten year drought 1983-92. I continue to work through the current three year drought, the worst drought on record in California, continuing to find water well locations, water dowsing. I have learned how large water courses need to be, to be reliable through these droughts. I have developed a method for determining which of those is the best target to drill for and strike on your property. I provide an estimated depth to last water, a production estimate in gallons per minute and can determine quality.
It is not necessary to wait until summer or fall to find your locations, when driller's waiting lists are the longest. My success rate is consistent throughout the year. The following pages are proof of results, no one else can offer.
Over the years, I have provided water well locations, for the U.S. Department of Interior, U.S. Bureau of Land Management, State of California, many municipalities, many agricultural wells, water dowsing. I am at the top of all internet search engines worldwide.
There are drillers, who also do some water dowsing. This is a highly questionable practice, and you should understand there is a serious conflict of interest for them. You want a good objective evaluation of water availability on your property, they simply want to secure the job.
Thank you for your interest,
Please call to schedule an appointment or if you have any questions.
Jack Coel
(800) 787-2128 or (707) 350-2128
Aqua Trac Water Project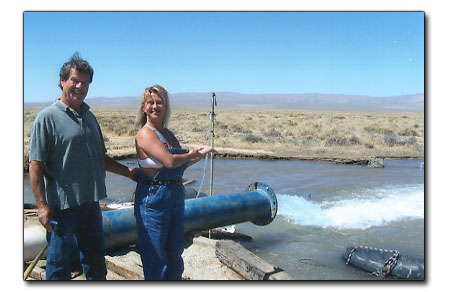 August 9th, 2006.
5th day of 7 day pump test at 5,000 BPM.
Aqua Trac water project began in 1986. In the south Winnemucca Lake area, one existing well with 1,000 gallons per minute was known. Aqua Trac was hoping to find 10-15 of these 1,000 gallon per minute wells. Aqua Trac had drilled many dry holes over the years, behind satellite imaging, radar and Geologists.
Over three hundred million dollars was invested before I was contacted, and 1 million acres secured. 1,600 square miles, 40 miles x 40 miles, all covered in 24 hours while standing in the back of an open Jeep.
On our last trip in spring, my wife Pam and I were told by Tom Galleger, president of Aqua Trac, that a couple of weeks earlier Tom had spoke with the Secretary of the Department of Interior about my well sites and both State Senator and Governor supported the project.
I had found BIG WATER in Granite Springs Valley many years earlier, looking at the same B.L.M. land with an accountant, for a project that never got through B.L.M. hoops. When I found these locations again, I told Tom, Lynn and Ryan that these would be my biggest wells ever. I expect after developing well, field and pipeline project to Reno and Fernley, this project served by my locations will cost a billion dollars easy.
My well, in Desert Well DVD Ch. 2, was the most recently drilled of three of my well sites drilled 2005-2006, two others were estimated at 4,000-6,000 g.p.m. were blown up and are now being investigated.
Aqua Trac, according to Ch. 2 DVD, needed 10,000-15,000 g.p.m. for their pipeline to Reno and Fernley, my three well sites provide all that and more.
LeBaron, Chihuahua, , Mexico - got 1,000 + gallons
per minute.

Water Dowsing, 2010
Glory Hole Project
Faith in Christ, surpasses ability of science and technology in location and development of water at Glory Hole Recreation area, Angels Camp, California.
December 24, 2004
In May 2004, my office manager was contacted by the department of the Interior Bureau of Reclamation. They had difficulty obtaining water for the Glory Hole Recreation area at New Melones Lake.
Two years earlier they had drilled 5,000 total feet on a number of Geologist provided locations. The best location made 7 gallons a minute, and smelled of sulfur. This well provides water to the recreation area still until the new well is online. While not a health risk, the smell is a continuous source of complaint by visitors.
In 2003, seven more well locations, provided by Geologists, where drilled. These all proved to be dry holes.
This year, May 25, 2004 my office manager made arrangements for me to look at the recreation area to provide locations where I thought they could get 40 gallons per minute of water.
I found a number of reliable watercourses. At the depths I found them to be at, one stood out clearly to me as the best location. I estimated it to produce over 100 gallons per minute.
Other parties provided 6 additional locations using electronic fracture locating equipment.
In November 2004, my location and the 6 others were all drilled to 750 feet each. The only location that made a well was mine, and ultimately produced 20 gallons per minute.
November 23, 2004 we met at the Glory Hole Recreational area. After showing me the new area and finding some reliable water, I determined using my calculations that the best watercourse by far, both as a target in production wise, was the watercourse I provided the first time out. I had estimated 100+ gallons per minute, and we got 20 gallons per minute.
We went back to that site where the driller was still developing the 20 gallons per minute well.
I followed the watercourse to 75 feet away from the previous drill site, again I estimated 100+ gallons per minute, and marked the location to drill.
The dept. and the driller did everything right. They provided the efforts needed to hit a point in the ground with intention. They drilled and made 100+ gallons per minute. The Glory Hole.
This project undertaken by our government, became the closest thing to a scientific blind study, I've ever heard of or read of. We all looked at the same areas, and these are the results:
2002 – Geologists – 5000 feet drilled – 7 GPM. With sulfur.

2003 – Geologists – 7 dry holes.

2004 – Electronic fracture locating equipment – 6 dry holes.

2004 – Jack Coel – Faith and experience - Two locations:
Matthew 7:7
June 2018 Water Dowsing Update
I have been dowsing for water now for 44 years. Before that, I spent 8 years locating underground utilities on 4 continents. People do not call for areas where it is easy to make water. It's always after dry holes or known difficult areas.
I work all over North America. 2017 was my biggest year to date. My largest well in 2017 was 2,500 g.p.m. near Lake Berryesa CA., a difficult water area. I thank God for my mission.
In my opinion to call yourself a Water Dowser, you must be full time, to do as much as you can, find out results and learn. It is not like other occupations, information and opportunities to learn are not readily available. I can do a certain amount of carpentry, electrical and other skills. It does not make me any of those things.
Unfortunately, almost all people claiming to be Water Dowsers, do it as a sideline, do not advertise, and do not travel out of their local areas. In doing so, they may be 20-30 locations a year. Drillers don't pay attention to them. They don't learn results of their work. You can work year after year that way and not learn anything. I include drillers who claim to be Water Dowsers. Big conflict of interest, hard to be objective with a contract in your back pocket.
Still outperforming science and technology.
Thanks for your consideration,
Jack Coel