General Information 10-24-06
My mission in life is to find water. I have provided over 8,300 well sites the last 39 years, dowsing. I regularly and consistently outperform any technology, science, or part-time dowsing amateur in locating water. Large municipal or agricultural locations as well as domestic sources are identified.
It is not necessary to wait until late summer or fall to find your locations, when drillers waiting lists are the longest. My success rate is consistent throughout the year. The following pages are proof of results, no one else can offer.
I worked thru the droughts of 1976-77 and 1983-92 in the west and learned how large watercourses need to be, to be reliable thru periods. I look for watercourses of that size and larger on your property. Once I have located the reliable watercourses on your property, I have developed a method for determining which of those are the best targets to drill for and strike. I provide an estimate depth to last water, a production estimate in gallons per minute, and can determine quality.
Over the years, I have provided well sites for the U.S. Dept. of Interior, U.S. Bureau of Land Management, State of California, many municipalities, School Districts, many large agricultural wells, etc. I am the only full time professional Water Dowser in the western U.S. I can be found in 40 telephone directories and up to 15 newspapers in five states, and the Internet.
There are drillers who also do some dowsing. This is a highly questionable practice, and you should understand there is a serious conflict of interest for them. You want good, objective evaluation of water availability on your property, they simply want to secure the job.
I charge $975.00 to Dowse per parcel. I charge travel at $50.00 per hour, one way. My fee typically amounts to the cost of 20-30 foot of drilling, sends you after your best source, and eliminates dry holes. I am coming from Upper Lake, CA in Lake County. I will consider any job, anywhere.
Thank you for your interest.
Please call to schedule an appointment or if you have any questions.
Jack Coel (800) 787-2128
(707) 350-2128 for International Calls Only

Aqua Trac Water Project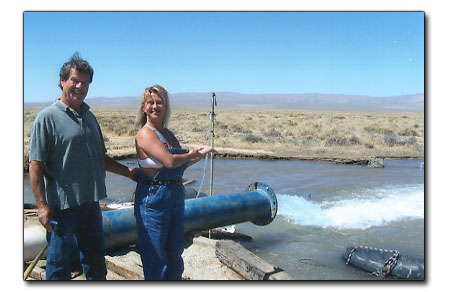 August 9th, 2006.
5th day of 7 day pump test at 5,000 BPM.
Aqua Trac water project began in 1986. In the south Winnemucca Lake area, one existing well with 1,000 gallons per minute was known. Aqua Trac was hoping to find 10-15 of these 1,000 gallon per minute wells. Aqua Trac had drilled many dry holes over the years, behind satellite imaging, radar and Geologists.
Over three hundred million dollars was invested before I was contacted, and 1 million acres secured. 1,600 square miles, 40 miles x 40 miles, all covered in 24 hours while standing in the back of an open Jeep.
On our last trip in spring, my wife Pam and I were told by Tom Galleger, president of Aqua Trac, that a couple of weeks earlier Tom had spoke with the Secretary of the Department of Interior about my well sites and both State Senator and Governor supported the project.
I had found BIG WATER in Granite Springs Valley many years earlier, looking at the same B.L.M. land with an accountant, for a project that never got through B.L.M. hoops. When I found these locations again, I told Tom, Lynn and Ryan that these would be my biggest wells ever. I expect after developing well, field and pipeline project to Reno and Fernley, this project served by my locations will cost a billion dollars easy.
My well, in Desert Well DVD Ch. 2, was the most recently drilled of three of my well sites drilled 2005-2006, two others were estimated at 4,000-6,000 g.p.m. were blown up and are now being investigated.
Aqua Trac, according to Ch. 2 DVD, needed 10,000-15,000 g.p.m. for their pipeline to Reno and Fernley, my three well sites provide all that and more.